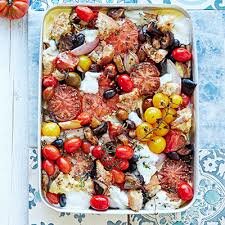 Summer is finally here, which means it's a great opportunity to switch things up in the kitchen and begin preparing some lighter meals. Obviously, my child requests his burgers, steak and pasta consistently — however in the heat, that is the exact opposite thing I need to cook or eat.
Culinary nutritionist Marti Wolfson says, "In the summer months, as heat increases within, our appetites naturally diminish and we tend to want to eat lighter and cook foods like fruit, vegetables and salads. It is a natural tendency in order to not overheat. Heating foods that are too oily, spicy or pungent like garlic and ginger and curries, will overtax the digestive system and increase the internal temperature."
In spite of the fact that it isn't so natural to jettison our run of the mill supper schedules, we urgently need some new plans in this house. Here's what they suggested:
Garden Feast
David Minerva Clover states, "When it was really hot last week we made a massive salad with stuff from the garden (and store bought ingredients too) in it, multi grain bread, yogurt, berries and peanuts. I thought I was being lazy by not 'cooking' but it turned out to be a really lovely and satisfying dinner."
Mediterranean Spread
Schnaps Gonsoulin writes, "We've started a family style 'Mediterranean' spread, which was mostly meant to get my toddler to eat more, but also because it's lighter. I put out a main protein like meatballs or chicken and then a bunch of sides. Add sliced veggies, hummus, pre-packaged grape leaves, olives (for me!) and whatever else fits. Super easy."
Snack Night and Pupu Platter
A considerable lot of the mothers I spoke make nibble platters for supper on certain nights, loaded up with "something for everybody," as indicated by Carol 'Steffes' Heffernan. This is a photograph of one of her ongoing platters which was a hit at her home.
Taco Salads
Dana Lee says, "Try a taco salad. Get Thousand Island and Catalina salad dressings, iceberg lettuce, make some ground beef with taco seasoning, tortilla chips, tomatoes and spring onions. Add the ingredients in a huge bowl and mix together." This additionally gives me the plan to make burritos or tacos with lettuce rather than the corn tortillas as well, for that lighter touch.
Go Sweet and European
Olga Mecking says, "Eastern and Central Europe have sweet dinners and lunches. Examples include bilberry (you can use blueberries), strawberry or tart cherry pierogi. Try 'lazy pierogi' made with flour, egg and curd cheese combined, then you make 'snakes' out of the dough and cut off little pieces, served with butter, sugar and cinnamon (and sometimes bread crumbs fried in butter). Try crepes too. Find more sweet Polish recipes here. Otherwise, salads and cold soups, as well as pasta and rice dishes work too."
No Cook Dinners
Dana Lee adds, "I'm a big fan of no-cook dinners and cold salads in the summer, like tuna, salmon, shrimp salad, etc. Basically pick your fish of choice, mayo or yogurt, celery, very fine chopped peppers and in the morning if you boil a few eggs you can add one. Splurge on lovely bread at the bakery."
Salad and Tarts
Wolfson recommends some other recipes that are light, healthy and look delicious like fish kabobs with an herb pesto, tomato and zucchini tart, black bean tostados with grilled vegetables and guacamole and watermelon feta salad with an arugula salad.