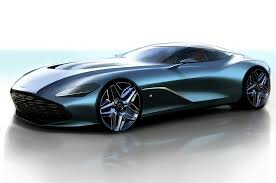 Aston Martin has uncovered the exterior design of the forthcoming DBS GT Zagato in a series of official renders.
In light of the DBS Superleggera, the company's most recent constrained release supercar grandstands the most recent advancement in the Aston Martin Zagato structure language.
How restricted you inquire? Indeed, so as to get your hands on one of the DBS GT Zagatos, you'll need to likewise get a DB4 GT Zagato Continuation. The £6 million ($7.48 million) pair shapes what Aston calls the DBZ Centenary Collection, with just 19 instances of each set to be made.
One of the greatest visual features of the new Aston Martin DBS GT Zagato can be found in its generally monstrous grille; this is really an active item, meaning that each of the 108-individual diamond-shaped carbon fibre pieces remain flush with the bodywork when the supercar is parked and then open upon start-up to enable the twin-turbo 6.0-liter V12 to breathe.
"This is a car that is not only focused around beauty, but drama too," said Marek Reichman, Chief Creative Officer, Aston Martin Lagonda. "Our dynamic grille gives us an opportunity to provide the car with two very different identities. When parked, DBS GT Zagato will almost look like it's resting, but with the rear of the car still appearing muscular and primed for action. Only on start-up will the car truly become alert and ready to perform, delivering both an aural and visual treat for onlookers".
Furthermore, the full length carbon-fiber rooftop will make it into production, giving the DBS GT Zagato a significantly progressively strong appearance. This enormous bit of carbon fiber additionally implies that there's likewise no back window, yet Aston Martin unraveled the issue with a camera-worked focal mirror.
"Form and function are constantly in battle with one another, but this is a great example of where we have been able to utilize modern technologies to ensure no concession has been made on either side," added Reichman.
Production of the new Aston Martin DBS GT Zagato will start in 2020, with the first deliveries scheduled for the fourth quarter of the same year.