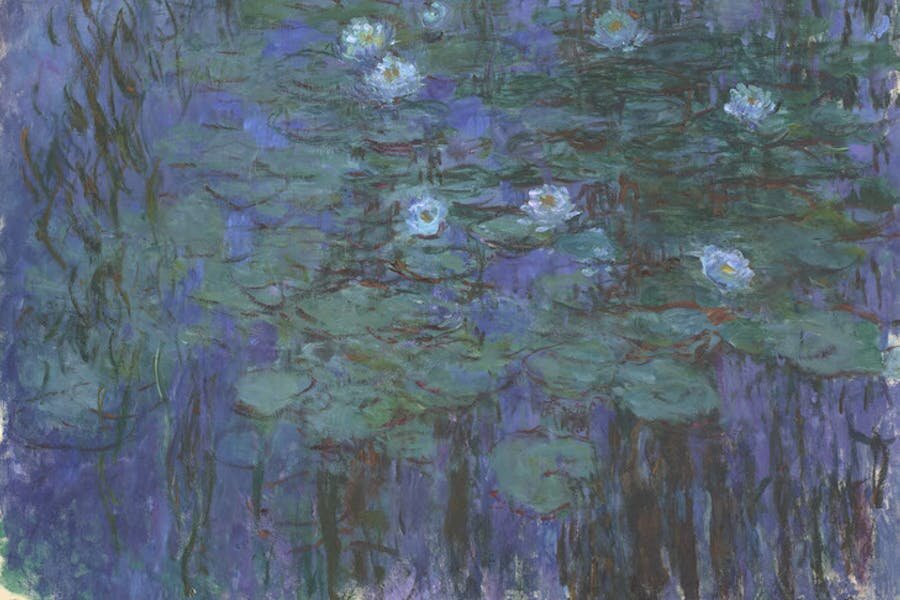 Since 1961, a sketch of wisteria by French impressionist Claude Monet has hung in the Gemeentemuseum in The Hague, harboring a mystery underneath its twirling brushstrokes. As Nina Siegal reports for The New York Times, a conservator at the exhibition hall as of late found that this fine art had been covered up one of Monet's famous delineations of water lilies—the nursery subject that he painted fanatically during the most recent two many years of his profession.
Nobody had investigated Wisteria since it went to the gallery almost 60 years prior, yet it was as of late removed from general visibility in anticipation of an up and coming display on Monet's nursery canvases. At the point when present day workmanship conservator Ruth Hoppe inspected the craftsmanship, she saw that it had been modified to conceal modest openings containing bits of broken glass, the harm potentially brought about by an Allied bomb that broke the glass of Monet's studio during WWII. Hoppe chose to X-beam the work of art to show signs of improvement look, yet discovered something altogether sudden: water lilies covering up underneath the craftsman's delineation of dangling wisteria.
"For us it was a big surprise," Frouke van Dijke, a keeper of nineteenth century workmanship at the Gemeentemuseum, tells Siegal.
The canvas was a piece of a bigger establishment that Monet called his "Grandes Décorations"— a progression of boards, extending some 6-and-a-half feet long by 20 feet wide and painted with water lilies. Monet likewise made a progression of wisteria sketches to be hung like a crown over the water lilies.
"These works … took the artist to pictorial territory he had not visited in more than 50 years of painting," according to the Museum of Modern Art. "The compositions zero in on the water's surface so that conventional clues to the artist's—and the viewer's—vantage points are eliminated. The shimmer of light on the water and the intermingling of reflections of the clouds and foliage overhead further blur the distinctions between here and there."
After the First World War attracted to a nearby, Monet gave some of his "Grandes Décorations" works of art to the French state, which thusly picked to show them in the Orangerie, a presentation space in the Tuileries gardens. Be that as it may, the show, which opened to the open one year after Monet's demise in 1926, was not a triumph. Impressionism was dropping out of style, and watchers discovered Monet's organizations unusual, even muddled; some estimated that his coming up short visual perception was at fault. What's more, there was no room in the Orangerie to hang the wisteria sketches that Monet had imagined as a component of the establishment. They stayed in his studio, alongside other late artworks that were dismissed and to a great extent overlooked until Monet was "rediscovered" during the 1950s. Eight of the wisteria works are known to exist today.
It is interested that the craftsman chose to paint the Gemeentemuseum's wisteria piece over another work of art. He was, by this point, an affluent man and did not have to depend on reusing canvases. Maybe, Hoppe hypothesizes in a meeting with Siegal, Monet was exploring different avenues regarding a progress to another botanical subject.
"The most logical reason for me was that he wanted to try something new, and he wasn't sure yet where it would end," she explains. "To my eye, this is a bridge between the water lilies and the wisteria."
Monet's water lilies have delighted in a gigantic resurgence in ubiquity, however his wisteria works remain overlooked. "[A]ll the emphasis is dependably on the water lilies," van Dijke tells Siegal, "so nobody truly thinks about the wisteria." But the Gemeentemuseum's Wisteria will be a focal point of its new display—helped, maybe, by a little water lily star control.