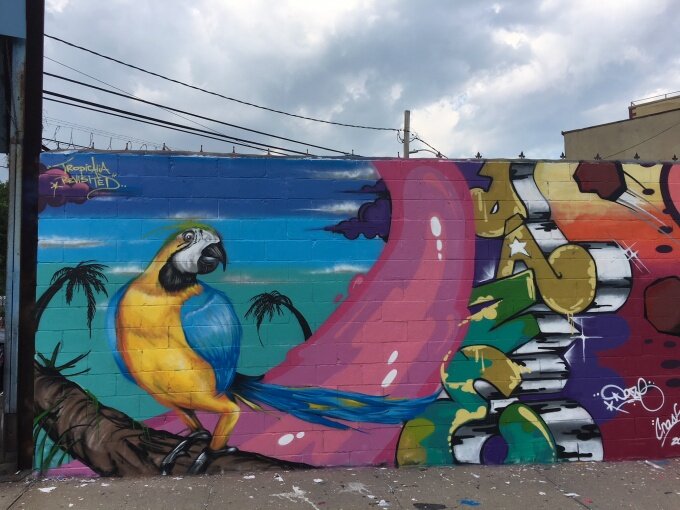 More than 100 spray painting works and paintings have been painted on the dividers of structures in and around Welling Court in Astoria.
The works are a piece of the tenth yearly Welling Court Mural Project, which exhibits contemporary spray painting and wall painting craftsmanships on Welling Court at 30th Avenue and twelfth Street.
The undertaking is composed by expressions association Ad Hoc Art, which welcomes craftsmen every year to make new works in the territory and offer their abilities with the network.
The current year's craft undertaking had its official divulging on Saturday, however the workmanship will be in plain view for the following year.
The presentation incorporates works by best in class craftsmen and entrenched painters, as indicated by Ad Hoc Art's Owner and the Director of Welling Court Mural Project, Garrison Buxton.
Buxton said the craftsmen are given imaginative opportunity to paint anything they desire, yet that many pick socially pertinent topics.
Numerous pieces pay tribute to the 50th Anniversary of Stonewall, including a piece by craftsman Lady Pink, who Buxton said is a Queens inhabitant and all around regarded spray painting craftsman. She has partaken in nine out of the 10 Welling Court Mural Projects.
The task was propelled 10 years back after Jonathan Ellis, a previous inhabitant, drew closer Buxton with the thought. The whole task was incubated by the network and has developed since.
Neighborhood organizations have upheld the venture by enabling the specialists to utilize their dividers as canvases and, on account of R&R General Supply, giving paint and workmanship supplies a seemingly endless amount of time after year.Buxton said the task is inspiring.
"People prefer to have art in their lives," Buxton said. "Studies have been done that show an increase in the quality of life of people exposed to more color and the feedback has been overwhelmingly supportive from all demographics."